screened September 9, 2008 on DivX in Brooklyn, NY TSPDT rank #710 IMDb
The crowning achievement in the mercurial career of Soviet director Boris Barnet, this simple story of a love triangle between two shipwrecked sailors and the beach blonde darling of a fishing village exemplifies a kind of film that could only have been made at the dawn of the talkies, when cinema had to rediscover its vision at the same time that it discovered its voice.  Films that most ingeniously mounted this challenge - Jean Vigo's L'Atalante, Luis Bunuel's L'Age d'or, and both Frank Borzage's and Yuan Muzhi's versions of Street Angel, to name a few - were able to retain the luminescent purity of the silent era iconography and hitch it to pure simple stories of love and discovery, milked from an infant's gaze and an adolescent's emotions.  The tremulous and intermittent occurences of sound add a paradoxical wonder,  fearlessly inflicting violence on the silent image by thrusting it into a fragile new dimension.  The result is a cinema that remains vital and vigorous, perpetually new.   By the Bluest of Seas opens with a capsizing of a ship among relentlessly stormy seas that amounts to an audiovisual ablution for the viewer, eventually casting them on a blank, enchanted seaside full of possibility, where boisterous song, vaudevillian slapstick, romantic wistfulness and nonstop pining rule the day. It is a utopia of emotional freedom and spontaneously generating, momentary magic, a utopia that can only happen in the cinema.
By the Bluest of Seas is a musical, codirected by S. Mardanov, that's even more intensely physical than Okraina. Even though warfare is a passing offscreen issue, this film is as much about peace as Okraina is about war -- a view of paradise to complement the previous glimpse of hell.

The plot is simple and concentrated. After shots of waves and an awkwardly translated opening intertitle -- "A ship perished in the Caspian Sea / Young lives were fighting with death for two days" -- we meet the two heroes, a sailor and a mechanic. They're picked up by a schooner and taken to an island in Soviet Azerbaijan, where they encounter a young woman named Mashenka (Yelena Kuzmina), who heads a fishing co-op and works as a forewoman on a fishing boat. What little remaining story there is focuses mainly on the romantic rivalry between the two men, though Mashenka eventually reveals that she has a fiance who's off fighting in the Pacific.

It's difficult to account for what makes this movie so exquisite, apart from the characters and their quirks (such as one man's ticklishness) and the beauty of the idyllic setting. Eisenschitz seems to be on the right track when he says that the film is unclassifiable, that it's "certainly not a comedy even if it provokes laughter." We wind up feeling affection for the three leads, partly because of the affection they show for one another and partly because of the gusto with which they show it. This aspect reminds me of some of Raoul Walsh's character-driven comedies of the early 30s, such as Me and My Gal (1932) and Sailor's Luck (1933). But there's also an undertow of sadness that seems quite foreign to Walsh -- a sense of melancholy wrapped around each moment of joy that seems quintessentially Russian.
- Jonathan Rosenbaum, The Chicago Reader
By the Bluest of Seas, which evidently exists in both color and black-and-white versions, is Barnet in his prime. It takes place on an island paradise in the Caspian that for all its Tempest-like isolation can't escape Soviet bureaucracy. Two fishermen, Alesha (Nikolai Kryuchkov) and Yussuf (Lev Sverdlin), who represent the European Soviet Union and the Central Asian, compete for the love of a pale island blonde, Misha (Yelena Kuzmina), who can't decide between them. The film is never didactic. Its desire is not for Soviet unity but for a kind of perfect union that exists only in tales or dreams. The way Barnet brings this microcosm to life is wholly original and charmed. By the Bluest of Seas has been favorably compared with Jean Vigo's L'Atalante, but it breathes a salt air all its own. A scene set below deck as the three lovers are tossed by a storm attests that this is one of the essential films of the 1930s, a threesome movie as accomplished as Ernst Lubitsch's Design for Living.
- Chris Fujiwara, The Boston Phoenix
The film opens (and closes) with what are arguably the most beautifully-shot seascapes in the history of cinema: Barnet and cinematographer Mikhail Kirillov's camera captures the region's luminous sunlight as it refracts through the salty air and dances off the translucent Caspian Sea surface. As the surf explodes in slow motion into the misty heavens, the image track becomes as sensuous as that in any visual medium, exposing the film's intention to procure icons of unsurpassed natural beauty. By the Bluest of Seas might just be said to improve upon the natural world...

In spite of everything that has been said, By the Bluest of Seas nonetheless remains a surprisingly difficult film to champion, let alone to write about, no doubt because its pleasures are so pure. To any detractors that it may have, present or future – and these fictional "detractors" would argue undoubtedly against its greatness, not its goodness – let us invoke our same original authority, Jacques Rivette, in the context of his remarks on one-time neglected giant of the cinema, Howard Hawks: "the evidence on the screen is the proof of [his] genius." In the example of By the Bluest of Seas, a better way to state it might be to say simply: the evidence is on the screen. That is, whether one cites the filmmakers' land and seascape photography, the bodily and performative representation of desire and feeling or the emotional stakes for which the protagonists are playing, the unadulterated pleasures of Barnet's film are there for those with eyes to see and hearts to feel. This is a film with which to fall in love.
- Michael J. Anderson, Tativille
Barnet's film takes place in the Caspian Sea -- and an on an island in that sea. But he starts the film with water and waves and two shipwrecked sailors -- and the marine cinematography by Mikhail Kirillov is absolutely stunning. The sailors Alyosha (Nikolai Kryuchkov) and Yussuf (Lev Sverdlin) are rescued by members of a fishing commune on an island in the Southern Caspian. Soon after their arrival, both are smitten by Misha, a pretty commune supervisor (Yelena Kuzmina, star of Kozintsev and Trauberg's New Babylon and Alone). They both go to work for the commune, and compete for the attention of Misha, using means both fair and foul, which puts a considerable strain on their comradeship. As it turns out, she is already engaged to a sailor serving in the Soviet Union's Pacific fleet, so the two set off together (friends again), back across the Caspian to their own hometown.

An utterly delightful (and beautiful) film -- it has helped solidify Barnet's spot as one of my favorite Soviet directors. One can't help wondering why Barnet's lovely film is so comparatively ignored today. Perhaps the fact that it is totally uncategorizable hurts it -- part low comedy, past romance, part socialist propaganda, part musical. Moreover, this is part silent (with intertitles and a synchronized musical score) and part talkie. As beautifully crafted as the film is, it feels unsophisticated, too much aimed at common audiences. At the moment, the only subbed DVD release (from Bach Films), is subbed only in French. It does not appear that much restoration was done for this release, but for the most part this looks lovely, despite the damaged condition of the underlying source print.
- Michael Kerpan, Roslindale Monogatari
Film director Otar Iosselliani remembers Boris Barnet, as published in Inside the Film Factory: New Approaches to Russian and Soviet Cinema By Richard Taylor, Ian Christie, 1991, Routledge. Pages 163-164
"I knew him through his editor, who was also his girlfriend and in her twenties. She was a very lively girl, and I remember her saying: 'Watch what I'm going to do when Barnet comes.' She went up to him and ordered: 'About turn!' This immense figure turned round smartly and she jumped on to his back, calling 'Gee up! That's how I met him...

Then we had a drink and he told me: 'Above all, don't watch my films twice.' 'Why?' I enquired. 'Because they are made for one viewing and afterwards when you go for a walk and remember them, they become better. I am not,' he told me, 'a chemist like Eisenstein, who poisons slowly.'

I fell in love with him the first time I saw By the Bluest of Seas. It ws in the editing class given by Felonov, an excellent teacher, who told us: 'There is no logic to this film, none at all, and no measurement, but it is very well filmed.' (He was used to measuring everything and thought that all films were calculated). 'It is very well made. I am not teaching you the craft in order to follow this example. I noticed how much you liked it' (I had badgered him to let me see it again on the editing table) 'so here it is, but don't take it as an example. Even though it is better made than, say, Ivan the Terrible.'

He was a poet at a time when cinema had thrown out all its simple, unmannered poets, in order to implant mannerism. Dovzhenko's poetry is really mannerism, with those apples around the old man dying... Barnet's films like The Girl with a Hatbox and Trubnaya were very much influenced by their epoch. They were light-hearted and very funny. They were ironic and even carried their propaganda well: 'Things are bad,' they said, 'but they will improve and this will only be temporary.'

Ideologically, he belonged to that company of film-makers, but morally he didn't take part in their games. Why do I say that? Because a director who had gone through it all and been broken by the demands of the time, who had started to make films about the kolkhozes, said of him that he was an enemy. Just like that. Indeed he was distrusted by all his colleagues, for what he had done? What did By the Bluest of Seas amount to? In our epoch of construction, with all its serious and weighty problems, what's all this about a wave which sweeps a woman into the cabin of a boat? This really has nothing to do with reality!
About Boris Barnet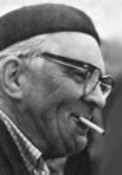 During his heyday in the late '20s and early '30s, Russian actor and filmmaker Boris Barnet was hailed a master of tragicomic satire. Ironically, it would be his use of satire that would put a permanent damper on what promised to be a long, brilliant career. Of English heritage, Barnet was still in his teens when he volunteered to serve as a medic for the Red Army during the Russian Civil War. After completing his military service, Barnet attended the Central Military School of Physical Education of Workers. Following a stint as a professional boxer, Barnet enrolled at VGIK and joined Lev Kuleshov's experimental workshop. Following graduation, Barnet co-directed Miss Mend with Fyodor Otsep in 1926. Barnet made his first solo film the following year. Devushka s Korobkoy starred Anna Sten and gently satirized the government's recently enacted New Economic Policy which allowed a limited amount of free enterprise to boost the Russian economy. Like his subsequent successes, the story offered a subtle blending of tragedy and comedy, much in the style popularized by Charlie Chaplin. Barnet's sophomore effort, a historical epic to commemorate the tenth anniversary of the October Revolution, was assigned to him by the studio and was not nearly as successful as his first. Barnet's disinterest in the subject showed and the film failed at the box office. However, he returned to form with his next effort, Dom na Trubnoi/The House on Trubnaya Square (1928). Audiences loved Barnet's comic take on the complicated relationships among Moscow's dwindling bourgeois society, but some critics warned that such satires could be potentially troublesome for unwary filmmakers. It was advice that Barnet did not heed when he made the sad yet funny Okraina (1933), the story of how the Russian Revolution divided a small Russian community. Though well made, the story was ill-timed and the film was heavily criticized for presenting the Russian people in a negative light. While Barnet never made another real satire, the criticism had a cumulative effect on his career and though he received the title of Honored Artist in 1935, he was never able to regain the popularity and approval he had prior to Okraina. He still continued to make films through the early '60s and a few of them, including U Samogo Sinego Morya/The Bluest of Seas (1935) (one of the Soviet Union's first color films), Podvig Razvedchika/Secret Mission (1947), and Annushka (1959), received good reviews. In 1965, Barnet was working on a film in in Riga, Latvia, when he committed suicide.
- Sandra Brenna, All Movie Guide
Boris Barnet's career as a director has been much underrated in the West, yet it spanned almost forty years of Soviet filmmaking. After a brief period as a PT instructor in the Red Army and then as a professional boxer, he joined Kuleshov's workshop as an actor and handyman. In 1924 Barnet played the part of Cowboy Jeddy, a grotesque caricature of an American, in Kuleshov's eccentric comedy The Extraordinary Adventures of Mr. West in the Land of the Bolsheviks. He frequently appeared later in his own films, often in cameo roles.

Like Kuleshov, Barnet went to work for the Mezhrabpom-Rus studio, where experimentation was combined with the production of films that were commercially successful. Barnet collaborated with Fyodor Otsep on the serial thriller Miss Mend and then made his first two feature films, The Girl with the Hatbox and The House on Trubnaya. Both films involved actors from the Kuleshov workshop and both were light-hearted comedies, satirising the excesses of the New Economic Policy and the social and economic tensions associated with it. The first centred on a lost lottery ticket and the second on the arrival of a country girl in Moscow, but Barnet managed very gently to broaden their frame of reference. His deft touch on these two films marked him out by the end of the 1920s as a director of originality and distinction.

The advent of sound seems to have caused Barnet fewer problems than it did other directors: he made two sound shorts about musical instruments in 1930, neither of which has been preserved. His first sound feature film, Okraina, was produced in 1933. This was a remarkably powerful, and in some ways almost Chekhovian, portrayal of life in a provincial Russian town during the First World War and the start of the Revolution. The lives of the characters are almost imperceptibly intertwined with the historical events unfolding far away. The relationship between individuals and events was, however, portrayed in too subtle a fashion for many of Barnet's contemporaries and, like so many other Soviet filmmakers of the time, he was attacked for ideological obscurantism. Hence it was that Barnet later remarked that he was not merely a "film director" but a "Soviet film director."

The reception for Barnet's next film, By the Deep Blue Sea, was even more hostile. On one level the film was a light-hearted love intrigue set on a collective farm on the banks of the Caspian Sea. On another level, however, it can be read as an allegorical tale of the eternal struggle between dream and reality, with the collective farm itself as a latter-day utopia, emphasised by the somewhat ironic title—a dangerous comparison in 1936 in the Soviet Union. Given the atmosphere of the time, it is perhaps not altogether surprising that Barnet's next film, One September Night, was devoted to a more conventional account of the birth of the Stakhanovite movement. In this film the secret police were portrayed as heroes, defending the Soviet Union against sabotage. But The Old Jockey, made the year after, fell afoul of the authorities and was not released until 1959.

The Second World War dominated Barnet's output for the next few years and his efforts were rewarded with the Stalin Prize in 1948. He returned to his true métier, comedy, in 1950, with his first colour film, A Bounteous Summer, made in the Ukraine. Another film, Lyana, was made in Moldavia five years later. Barnet's last completed film, The Whistle-Stop, was also a comedy, but other films that he made during the last decade of his life are more properly characterised as dramas. But to say that is to underestimate Barnet, because his films cannot be easily pigeon-holed.

Barnet's career in Soviet cinema spanned four decades. He belonged to the generation of lesser known filmmakers who in fact constituted the backbone of that cinema, while taking a back seat in the theoretical polemics that attracted international curiosity and focused attention on the avant garde. His films displayed a mastery of visual technique and a disciplined economy of style. He was a mainstream director but a subversive artist, whose work, tinged with warmth, humour, and humanity, constantly attracted Soviet audiences. He took his own life in 1965.
—Richard Taylor, Film Reference.com
The movies of Russian director Boris Barnet (1902-'65) are almost never screened, and information about his work is scarce. He seems to have made slightly over two dozen films, and I've seen three. Two of them, Okraina (1933) and By the Bluest of Seas (1936), are masterpieces. The third, The Girl With the Hat Box (1927), isn't bad, though it's far less memorable; curiously it's his only film out on video. These three films and four others are showing at Facets Cinematheque this week, along with a film Barnet acted in (Lev Kuleshov's 1924 knockabout farce The Extraordinary Adventures of Mr. West in the Land of the Bolsheviks) and a recent film tenuously inspired by Okraina (and sharing the same English title, Outskirts). Though many of his films were popular successes when they came out, Barnet is known among cinephiles mainly as the greatest forgotten master of the golden age of Soviet cinema.

To the best of my knowledge, this is the only Barnet retrospective Chicago has ever had, and only one of his films has previously been covered in the Reader, The House on Trubnaya Square (1928), which Dave Kehr reviewed enthusiastically and others have called the best Soviet silent comedy ever made. Jacques Rivette has called Barnet the best Soviet director after Eisenstein; Jean-Luc Godard has written about him with similar reverence, as has film historian Bernard Eisenschitz. Barnet is missing from most film history courses, but clearly it's not because he's a minor figure.

In 1971 French film and literary critic Raymond Bellour published an essay describing film in general as an "unattainable text." In part he meant that movies -- unlike poems, articles, stories, or books -- weren't things one could possess, keep on a shelf, quote from, and cherish as objects. They appeared briefly, and then they disappeared, often for good.

Bellour might have added that because movies were elusive and unattainable for much of the 20th century, they had a mysterious, magical allure. Anything that's here today and gone tomorrow remains fascinating precisely because it can't be pinned down or filed away. But Bellour couldn't have predicted that within a decade, videos -- and later DVDs -- would make many movies as attainable as printed matter, even if the conditions for watching them had changed.

Some mainstream commentators might argue that most of the world's important movies are already available on video or DVD, but Okraina and By the Bluest of Seas are hardly the only important works that aren't available on either. Most mainstream critics and studios tend to be lazy about enlarging the canon, and so they probably don't have a clue as to what all the important films are, since most of the films ever made aren't on video or DVD. Of course some of the best films are available at the video store, but the mainstream goes on limiting its definition of classics to films everyone already knows.

The program at Facets is called "The Extraordinary Mr. Barnet," and the use of the word "extraordinary" is by no means hyperbolic.

Barnet's paternal grandfather was an English printer who settled on the outskirts of Moscow, and Barnet himself was born there in 1902. He studied painting in Moscow before joining the Red Army in his teens and serving as a medic, and after the civil war he drifted into professional boxing. Lev Kuleshov, an influential film teacher as well as filmmaker, saw one of Barnet's matches and cast him in a prominent role in The Extraordinary Adventures of Mr. West in the Land of the Bolsheviks. Barnet joined the Kuleshov workshop as a student and handyman and eventually got to codirect a 21-reel serial called Miss Mend (1926); his first solo effort was The Girl With the Hat Box.

Neither a theorist nor a very able propagandist, Barnet was too instinctive and physical a director to fit comfortably within any prescribed form of socialist realism, and his reputation for making American-style movies -- apparently acquired partly because of his last name -- eventually turned the state bureaucracy against him. At least this is the impression left by biographical accounts, which are all sketchy. Some American descriptions of his films emphasize their propagandistic elements, but his propaganda strikes me as either slight or as politically incorrect -- the very attributes that likely got him in trouble. After sampling his work, I was shocked to learn that he committed suicide in 1965, leaving behind a note that said he seemed to have lost the ability to make good films.
- Jonathan Rosenbaum, The Chicago Reader