screened  Wednesday October 29 2008 on Flicker Alley DVD in Weehawken, NJ TSPDT rank # IMDb Wiki
Abel Gance was celebrated by his countrymen as France's answer to D.W. Griffith; one quality the two directors abundantly share is ego.  Griffith's imprint of every intertitle with his monograph can barely compete with the opening shot of La roue, in which the stony visage of its director looms over footage of speeding railway tracks, rendering him more of a captain of industry than a cinematic visionary. Such bombast may account for the initial seven-plus hour length of this magnum opus, in which Gance uses the Oedipal melodrama between a railway conductor, his son and his step-daughter to illustrate the cycle of life, from destructive desire to transformative love.  Even in its present 4 plus hour cut, it can be an uneven slog at times, as Gance lingers on moments until they creak with significance. But there's no denying his all-embracing ambition in bringing as many forms of cinema as he can conceive: from grimy working class realism to cliffhanger action to costumed fantasia interludes to moments of avant garde abstraction. On a shot by shot basis, there are few films that seem as visually diverse, certainly not from this period.
Want to go deeper?
The following citations were counted towards the placement of La roue on the TSPDT 1000:
Andrew Zwobada, Cinematheque Belgique (1952) John Boorman, Sight & Sound (2002) Pierre Billon, Cinematheque Belgique (1952) Movieline, 100 Greatest Foreign Films (1996) Premiere, Centenary List (19??) Various Critics, 1001 Movies You Must See Before You Die (2004) They Shoot Pictures Recommended Films
"There is cinema before and after La Roue as there is painting before and after Picasso."- Jean Cocteau
Rapid editing exists in an embryonic state in the gigantic work of Griffith. To Gance goes the honor of having so perfected this method that he deserves to be considered its inspired inventor. La roue is still the formidable cinematic monument in whose shadow all French cinematic art lives and breathes.
- Jean Epstein, from "For a New Avant Garde", January 1925
In rare moments scattered among various films, one has been able to have the confused feeling that there must be the truth. With La roue Gance has completely achieved cinematographic fact. Visual fragments collaborate closely with the actor and the drama, reinforce them, sustain them, instead of dissipating their effect, thanks to its masterful composition. Gance is a precursor and a fulfillment at the same time. His drama is going to mark an epoch in the history of cinema. His relationship is first of all a technical one. He absorbs objects and actors; he never submits to means that ought not to be confused with the desired end. In that above all his superiority over the American contribution resides. The latter, picturesque and theatrical in quality, in bondage to some talented stars, will fade as the actors fade. The art of La roue will remain, armed with its new technique, and it will dominate cinematographic art in the present and in the future.
- Ferdinand Leger, "La Roue: Its Plastic Quality," December 1922
Poetry has expected everything from film; let's acknowledge that it hasn't always been disappointed. Often the scenario has been magnificent and the actors wonderful. We've been indebted to them for profound emotions. Yet, while poetry has freed itself from all rules and fetters, the cinema still remains bound by a rigid and strictly common logic. Despite a number of endeavors, the screen still has not given us a chance to see a scenario unfold emancipated from human laws. Dreams there especially are perverted; none operate with the incomparable magic that is their charm. None, that is, when the filmmaker is served only by his memories.

Is the public which is thirsting for such manifestations so restricted? That should not be so. Here an educational effort might prove interesting. In any case, it is discouraging to see foolish sums of money swallowed up for imbecilic popularizations like La Roue and not to have any money at all available to tempt the desire of those whose freedom of mind is great enough to allow full license to the filmmaker. The cinema has nothing yet equivalent in audacity to the Ballets russes, nothing naturally as free as Couleurs du temps and Les Mamelles de Tiresias in the theater.
- Surrealist poet Robert Desnos, from "Le Reve et le cinema," 1923
La Roue began as a simple melodramatic tale, but in the course of six months scripting and a year's location shooting, the project took on quite a new dimension. In the central figure of Sisif, Gance seems to have struggled to create an amalgam of Oedipus, Sisyphus, and Lear. Meanwhile portions of the film that were eventually cut apparently developed a social satire of such ferocity that the railway unions demanded its excision. The most expensive film as yet made in France, its production was again delayed when the death of Gance's wife caused him to abandon work and take a five-month trip to the United States.

Like his previous work, La Roue had been conceived and shot in the pre-1914 style of French cinema, which was based on a conception of film as a series of long takes, each containing a significant section of the action, rather than as a succession of scenes made up of intercut shots of different lengths, taken from varying distances. But in Hollywood, where he met D.W. Griffith, Gance came into contact with the new American style of editing. Upon his return to France, Gance spent a whole year reediting his film. On its release in 1923 La Roue proved to be one of the stunning films of the decade. Even in its shortened version—comprising a prologue and four parts—the film had a combined running time of nearly eight hours.
- Roy Armes, Film Reference.com
Rene Clair on La roue
La roue is the archetype of the film that is Romantic in spirit. Just as in a Romantic drama, you will find in M. Abel Gance's film improbable situations, a superficial psychology, a constant attempt to achieve visual effects - and verbal effects as well - and you will find extraordinary lyrical passages and inspired moments of movement, one could even say, the sublime and the grotesque.

Given a drama so obviously "thought out," so carefully stuffed with literary ideas and ambitions, it is tempting to debate these with the author. No need to bother. If a screenplay ought to be merely a pretext, here it is a cumbersome pretext, sometimes annoying, rarely necessary, but in any case not deserving of lengthy consideration. It is hardly unusual that, like most filmmakers, M. Gance has made a mistake as a screenplay writer, even if the mistake is more serious at times than we are accustomed to. If we were asked to judge M. Gance by the psychological intentions he expresses on the screen and by the titles to write, I have to admit that my judgment would not be in his favor. But right now we are concerned with cinema.

As I see it, the real subject of the film is not its odd story, but a train, tracks, signals, puffs of steam, a mountain, snow, clouds. From these great visual themes that dominate his film, M. Gance has drawn splendid sequences. We had, of course, seen trains before moving along tracks at a velocity heightened by the obliging movie camera; but we had not been completely absorbed - orchestra, seats, auditorium, and everything around us - by the screen as if by a whirlpool. "That's only a feeling," you will tell me. Maybe. But we had not gone there to think. To see and feel is enough. Fifty years from now you can talk to me again about the cinema of ideas. This unforgettable passage is not the only one that testifies to M. Gance's talents. The catastrophe at the beginning of the film, the first accident Sisif tries to cause, the ascent of the cable car into the mountains, the death of Elie, the bringing down of his body, the circular dance of the mountaineers, and that grandiose ending amidst veils of cloud: those are sublime lyrical compositions that owe nothing to the other arts. Seeing them, we forget the quotations from Kipling, Aeschylus, and Abel Gance throughout the film, which tend to discourage us. And we start to hope.

Oh, if M. Abel Gance woudl only give up making locomotives say yes and no, lending a railroad engineer the thoughts of a hero of antiquity, and quoting his favorite authors! If he were willing to create a pure documentary, since he knows how to give life to a machine part, a hand, a branch, a wisp of smoke! If only he were willing to contribute in that way to the creation of the Film that can barely be glimpsed today!

Oh, if he were willing to give up literature and place his trust in the cinema!
- from "Les Films du mois: La Roue," published in Theatre et Commedia illustre, March 1923. Reprinted in Richard Abel, French Film Theory and Criticism. Published by Princeton University Press, 1993
Other comments
Even in its more widely distributed three hour version, the film feels slow and drawn out, and it is mainly Gance's innovative techniques (most notably the rapid cutting in the racing train sequences) which keeps the film interesting.
- James Travers, FilmsdeFrance.com
Gance had achieved a major critical and commercial success with his 1919 antiwar film,"J'Accuse," which ran a relatively modest three hours. His financial backer, Charles Pathé, was prepared to follow his director on another extravagant project, this time inspired by the 19th-century social epics of Victor Hugo and Émile Zola, and reflecting in equal measure Hugo's dense, multigenerational plotting and Zola's theories of biological predetermination. The result was a story that applied themes of incest and alcoholism to a sweeping narrative covering several decades and moving from the dark, grimy railroad yards of Nice to the blindingly white vistas of Mont Blanc.

The poet and future filmmaker Jean Cocteau spoke for many of his contemporaries when he said, "There is cinema before and after 'La Roue,' as there is painting before and after Picasso."

Today that reaction is hard to comprehend. The psychology of the central relationships seems crudely deterministic: Sisif and Elie are crushed by their incestuous impulses as if by asteroids dropping from the sky, and once stricken, they are powerless to resist, staggering along like zombies. The performances Gance draws from his actors leave little room for nuance. As Sisif, Séverin-Mars (who died of a heart attack before the film was released) seems constantly to be begging for audience sympathy with his watery eyes and furrowed brow; as Norma, Ms. Close (a popular English actress who was the mother of Ronald Neame, the director of "The Poseidon Adventure") is a standard gamine of the period, frisking with her pet goat.

But "La Roue" still fascinates as a grab bag of experimental techniques, which do not all belong in the same movie, but which clearly dazzled audiences of the time with the formal possibilities of this still relatively new medium. Circular forms, drawn from the title image, appear with maddening regularity: in the charging wheels of Sisif's locomotive, the faces of ominously ticking clocks, the ring dance of a band of happy peasants.

Gance here develops the accelerating editing style that he would push further in "Napoléon": a train wreck is built from a shot 10 frames in length, followed by a shot of nine frames, working all the way down to a single, subliminal flash. And he imposes poetic metaphors, as when an overhead shot of a slow-moving train dissolves into an image of a snail, and back again. Gance allowed his actors to walk out of focus as they approached the camera (here, to suggest inebriation); Sisif's increasing blindness is portrayed by images taken through distorting glass and by iris effects that slowly close down on the actor's face, isolating him in a field of darkness.

In his creative frenzy Gance frequently mixes tonal and emotional registers and points of view. Some of the trick shots look down on the characters, passing editorial judgments from the director's perspective; others are meant to portray the characters' inner turmoil. As in "Napoléon," his style is ecstatic and impressionistic at one moment, stiffly academic at another.

Perhaps some of the initial enthusiasm for "La Roue" was generated by the sense of absolute freedom — from all current standards of narrative structure and formal coherence — that Gance projects with practically every sequence. It would be for future generations of filmmakers, including Cocteau himself, to balance that freedom with a sense of discipline and restraint, shaping unbridled effusion into poetic expression.
- Dave Kehr, The New York Times
Gance was both a classicist and a great film innovator, and La Roue is told in a blazingly brilliant style that blends stunning compositions and passionate acting with brilliantly accelerated editing techniques (in the action scenes), pounding volcanic cutting rhythms that went even further than Griffith's and obviously were another major inspiration on Eisenstein and the Russians. La Roue, whose main admirers included the young Akira Kurosawa, is a cinematic masterpiece that we have never before seen with such power and complexity. It rends the emotions, drenches the eyes and quickens the heart.
- Michael Wilmington, The Daily Page
Gance was... a restless, relentless re-inventor of cinema, and his best films can play like a mad scientist's laboratory at full crank, filthy with inexplicable angles, double exposures, impossibly moving cameras, crazed speed montages ("La Roue"'s came before Eisenstein), etc. "La Roue" is a massive, tragic melodrama, but it's also a high-gear modernist landmark, and its restoration and DVD release is an event; probably due to its length, Gance's movie was never released in the U.S., and it's remained one of the most elusive and rarest of monumental silent classics.
- Michael Atkinson, IFC
There really is no other director like Gance. He draws upon the full range of graphic effects, from irises to dramatic masking, double exposures to composites, and unleashes his arsenal within the first few minutes. But his technical mastery is in the service of the story, and he transforms the story of La Roue into an emotional epic. He is a master conductor who plays scenes like symphonies of feelings, continuing long past the narrative point has been established to express the emotional intensity of the characters and situations, and to add moments of pure grace to the mighty drama.
La Roue is a powerful drama of life among the railroad workers, rich in psychological characterization and symbolic imagery. To dramatize his story of a railroad mechanic's tortured love for his adopted daughter, Gance elaborated his use of masking and superimposition and perfected his fast cutting into the rapid montage that would soon be adopted by Russian and Japanese silent filmmakers for whom La Roue was a seminal influence. Complex in its thematics, the film's images animate machines and the forces of nature with a life and spirit of their own while the wheel ("la roue") of the film's title becomes a metaphor for life itself. Gance's remarkable symbolism is exemplified in the film's conclusion: as the old railway mechanic dies quietly and painlessly in his mountain chalet, his daughter joins the local villagers outside in the snow in a circular farandole dance, a dance in which nature itself, in the form of clouds, participates. Shot entirely on location at the railroad yards in Nice and in the Alps, La Roue remains a work of extraordinary beauty and depth. Jean Cocteau said of the film, "There is the cinema before and after La Roue as there is painting before and after Picasso," while Akira Kurosawa stated, "The first film that really impressed me was La Roue."
The scenes of the engines pumping out vast billows of smoke and the flashing rails racing toward the horizon benefit from unalterable realism. In one of the best moments, Sisif, his thoughts roiled with guilt and desire, runs ahead of a pursuing locomotive at night, trapped in the pitiless glare of the headlight. Throughout, Gance uses a wide variety of vignetting techniques to concentrate our attention on the characters; more than once, the actors are isolated in tiny circles of light in the midst of a black screen, as though viewed through a microscope. Gance works his title metaphor hard: the wheel is the wheel of the locomotive and the endless round of suffering that is human life. In the moments of greatest physical and psychological stress, the rapid-fire, staccato editing reaches the point of cutting in images frame by frame. But Gance also knew how to slow down-the last scene of the first half circles slowly around the distraught Sisif as he stands in the center of the railroad roundhouse and pivots to look at the locomotive bays. It is his farewell to a world he can never see again.
- Michael S. Gant, Metroactive
Watching La roue is a heightened experience. It's definitely a silent movie in some of its acting style, but Gance's progressive direction does much more than simply record the action. The interior décor of Sisif's house is forever changing, with Elie working on his special violin varnish and Sisif constructing models of his inventions; the lighting effects through the windows are carefully observed, with trains passing and the time of day changing. Gance's close-ups are more organic to the action. He doesn't use then standard 'cameo' vignettes, and often frames faces in extreme angles with dramatic lighting.

Gance uses visual effects to express psychological concepts. When Sisif has his fortune told, a view of trains are superimposed into the palm of his hand. Norma's face appears reflected in windows and hovers in space when the men in the story think of her. We know that Sisif's obsession with the young girl has gone too far when he can't erase her phantom image, even after drawing a curtain over a window.
- Glenn Erickson, DVD Talk
More crucial to La Roue's expressive force are Burel's long takes, fashioned by Gance into a slow pulse of magisterial image. If this were a symphony, it might be by Brahms, as the film yields an adagio of unutterable grief late in its second part. Sisif, now totally blind, has fashioned a large wooden cross that he must plant high on a mountain precipice, the scene of a senseless death the year before. Shot outdoors in very low light, the sight of the aged Sisif dragging the cross up a snowy slope is one of the great images of silent cinema.
- Gordon Thomas, Bright Lights Film Journal
Gance called La Roue (a.k.a. The Wheel) his "black and white" epic, setting the first half in the railroad yards (black) and the second half in the snowy mountains (white). Gance's visual inventiveness comes through in almost every shot, specifically in his unique editing, which sometimes repeats shots, and sometimes uses rapid-fire cutting to increase tension or excitement. When Sisif tries to crash his own train by increasing the speed, the film's rhythm builds to an intense frenzy. And when Sisif begins losing his vision, Gance responds by slowly fading the image up to pure white. This level of technical achievement was fairly rare for 1923, with perhaps the exception of Erich von Stroheim's work in America. Even D.W. Griffith didn't dare to turn such a wretched melodrama into an epic; he needed epic material to justify a film's size and length.
- Jeffrey M. Anderson, Combustible Celluloid
La Roue opens with the most impressive depiction of machinery that I have seen to date, incorporating the dramatic violence of the locomotive into its own accelerated montage strategies - rapid editing, stark juxtapositions of light and darkness, and frequent alternations between close-ups, long shots and medium shots - producing a self-destructive aesthetic whose logical conclusion is the disastrous crash that sets the narrative events in play. In another context, these might seem melodramatic - an orphaned baby is rescued by a train driver and brought up by him and his son, both of whom fall in love with her, and both of whom, for that very reason, are afraid to reveal her true origins. But there's a mythological tone at work that tends to preclude melodrama, clearest in the slightly unreal location of the action - a kind of no-man's land between two rail junctions, more suited to a signal-box than a family home. This gives the locomotives the omniscient, ambivalent status of gods, capriciously (and often literally) directing events without having any vested interest in them, or comprehensibility to them. In the same way, the characters are almost entirely robbed of interiority, mechanised and mythologised to the point where they exist as mere impulse and action, disempowered everymen for an industrial age. Strangely, the third act departs from this topos, replacing it with a mountainous backdrop which is evocative if ultimately misplaced, producing a more predictably melodramatic conclusion.
- Billy Stevenson, A Film Canon
In the DVD liner notes, the claim is made that La roue invented the cross-dissolve; I am not certain that it was the first film released with that technique, but its long production time might well mean that Gance and his cameramen (Dissolves had to be done in-camera back then! The mind reels) came up with the idea before anybody else. Think about that for a second: the dissolve from one scene to another is such a familiar trick that some of us find it to be cheap and tasteless - maybe that's just me - but in 1922, it was brand new. Admittedly, some of the film's most impressive technical leaps are even less interesting to the modern viewer: the use of shocking, bold colors for the tinted scenes is unlike anything I've ever seen, and I cannot think of another movie with such a mature and elaborate system of iris shots (the "pinhole camera" frame) in any other film, but these are both techniques that were essentially dead after the coming of sound. I might also point out that, filming in the studio but also in Nice and at the peak of Mount Blanc, this is one of the earliest and probably the most ambitious of all location shoots in film history, beating John Ford's mythic The Iron Horse to the punch by two years.
The railway forms more than just the backdrop to La roue—trains play an important role by continually driving the story forward. The imagery is tremendously powerful, and the story-line, with its twists and turns, is well adapted to the medium of film. I believe that even today, La roue is the most memorable railway film ever made.
- Jiro Hanyu, "Railways in Film," the Japan Railway & Transport Review
Bob Ham, DVD Corner
Deeper readings
The idea of the symphonic was in fact to have an immense importance in French attempts to establish an aesthetics of film. The definition of cinema as "the music of light," attributed to Gance but also claimed by several others, including Emile Vuillermoz and Elie Faure, became an accepted term in writings about film in the early 1920s. And for all its neat oversimplifications, Henri Langlois' description of Germaine Dulac remains a pertinent characterisation of a dominant impressionist tendency: "she sees music, she thinks music, she always considers film not as a fresco but as a symphony of images in which each shot, through its tonality and length, has the same value as a sound. She plays on montage as she would play the piano." As long as one doesn't eliminate poetry and dance, this view could be applied to most of the French avant-garde, from Leger to Rene Clair, Jean Epstein, and Blaise Cendrars. What they all have in common is their reference to Gance as point of origin, especially to La roue, which seemed to prove that cinema even in a proletarian setting and addressed to a popular audience was an art for the future. It had elevated cinema incontrovertibly to the status and dignity of music. This may seem to be an argument in favour of the "musical analogy," and indeed Gance continued to insist through to the late 1920s that cinema had to equate itself with music, to become a visual orchestra, performing symphonies in time and space. But music was not simply an analogy, it was, as La roue further exemplifies, a determinant of the image, providing a basis for tonality, movement within the frame and cutting between frames, even though in this instance the "source" of the music is not present in the image.

From its conception, La roue was mapped out in terms of musical metaphors. It was to be a symphony in black and white, or, more precisely, a "white symphony following on from a black symphony." A first part set in the soot and smoke of marshalling yards and railway engines, a second set high up in the Alps - contrasting worlds made for the cinema. Much later Gance described the film as a poem in which each image counts, like a note in music, echoing Langlois' comments on Dulac. But as in La dixieme symphonie, music had a definite function within the film. His project, she declared in a 1920 interview, was "to paint a visual opera," to establish a direct relationship between the vibrations of sound and light, to unite photography and Rachmaninov. Like La dixieme symphonie it was a melodrama, not the "cathedral of light" he aspired to construct but a film that would be understood by a popular audience and which would at the same time have universal significance. The hero is an engine driver called Sisif (Sisyphus), but within this proletarian actualisation of myth, music takes on a new function. It isn't something that is composed and performed within a narrative from which it then escapes. Music and image are conceived together.

This attempt to construct a visual equivalent of sound provoked one of the great pitched battles in film history. La roue was either an outrage, a bombastic, overblown and overlong piece of triviality, or the first cinematic oeuvre that demonstrated what the new art might become.
- Richard Abel, from Silent Film. Published by Rutgers University Press, 1996. Pages 35-36.
The central opposition of Clair's analysis, between "thinking" (literature) and "feeling" (cinema, reveals a profound misunderstanding of - or hostility to - Gance's project. To try to separate out the purely cinematic virtues of La roue from the director's moral messages is, finally, to misread him and make his work radically less interesting and compelling than it can be when read more sympathetically. At his best, Gance was a visionary filmmaker who made no distinction between ideas and feelings. The cinematographic experiments in his works can only fully be understood as expressions, and affective explications, of his philosophical positions. The wheel of the title (explicitly identified in the film's beginning as an instrument of torture, and implicitly identified with locomotives) represents human existence...

Commentators such as Rene Clair (and, more recently, Richard Abel) who reject Gance's visionary, philosophical project must inevitably view La roue as a mass of contradictions, a work which combines the supposedly antithetical elements of "pure cinema," literary and philosophical quotations, melodrama, a certain social realism, and so on. But it was the very heart of Gance's life project to overcome contradictions. A huge number of disparate elements are to be found in his films because he put them there deliberately, so that his work could become the site of their reconciliation. Perhaps he did not always succeed, indeepd perhaps he never did, but there is no doubt that his was a conscious and in its own way sophisticated endeavor, and not the naive, almost embarrassing primitivism it is sometimes made out to be. Currently available versions of La Roue probably seem clumsy and contradictory because too much has been cut from them. Gance structure his film as a poetic visual text, based on extensive formal repetition which figures his character's plight. The wheel, its complementary motif the cross, blackness, whiteness, hands, impressions of speed or slowness, and many other elements are repeated, varied, and combined in different ways. To understand the film, to allow the necessary, and for many viewers difficult, suspension of (philosophical) disbelief, we will have to see it in a version as close as possible to its original proportions.
- Alan Larson Williams, Republic of Images: A History of French Filmmaking. Published by Harvard University Press, 1992. Pages 90-91
Abel Gance's La roue is often placed beside Greed in advancing the thesis that the silent film was gradually refined into a realist medium. There are major similarities in the thematic entanglements in the two films - in their grubby, lower-class atmosphere and the sexual tension among the central characters - but Gance's interests are distinct from Von Stroheim's. In Von Stroheim's films the cutting does not fragment the compositions but highlights their most dramatic, psychologically symbolic features. Gance favors a far more furious pace: his camerawork continually upsets the permanence of his settings to expose the dynamic, disparate action and the characters' emotional instability. In La Roue, and more so in Napoleon, Gance's kinetic camera is distinguished from the fast-paced style of the American comedy film and from Griffith's epics - as well as from the historical dialectic of the Russian cinema - by seeking out the numerous dramatic details of his chaotic reality. Sets like the father's home in La Roue or the assembly in Napoleon are not presented in rigid, formal terms but as a means of emphasizing the interaction of conflicting social forces and human emotions. The psychological validity of La Roue derives from Gance's sudden editing permutations, which seem to explode on the screen with all the forcefulness of the train the father drives; it is a complex and ultimately confusing framework. Gance's experimentation with a variety of camera angles and the different speeds at which various sequences play overwhelm the viewer's hold on reality. He is exploring a theme similar to the one in Greed, human obsessions and how they are defined through a myriad of cinematic techniques.
- Aaron Sultanik, from Film, a Modern Art. Published by Associated University Presses, 1986. Page 108.
About the Flicker Alley DVD
The virtually simultaneous appearance of restored, two-disc editions of Abel Gance's 1923 blockbuster from Flicker Alley in the US and Marcel L'Herbier's no less oversized L'argent (1929) in France highlights the unusual proximity of avant-garde and mainstream filmmaking in France during the 20s. (Two other interesting common points: both are derived from Zola novels, albeit unofficially in the case of the Gance film, which is said to derive in part from La bête humaine; and both DVDs include a contemporary "making of" documentary—in the case of La roue, a short film by Gance's friend and collaborator Blaise Cendrars.) Since I'm already writing about L'argent for the online Moving Image Source, I'll focus here on the Gance, beautifully outfitted with Fernand Léger's original poster for the film on the box and a symphonic Robert Israel score inside. Seven-and-a-half hours long on its first release, La roue (The Wheel) has been restored to only four-and-a-half hours here, but this is still the longest version to have appeared anywhere since 1923, and the clarity of the images is exceptional. (My only regret is that the original French intertitles aren't included, even optionally—an ironic turn of events for a film that apparently never even opened in North America.) Based on what I've seen so far, the wild eclecticism of Gance's rapid montage and superimpositions is a triumph of sustained intensity, and the film may well qualify as the ultimate train movie; in her fascinating book Parallel Tracks: The Railroad and Silent Cinema (1997), Lynne Kirby understandably devotes more than 20 pages to it.
- Jonathan Rosenbaum, Cinema-scope
Music makes all the difference in a film like this, and it's easy to imagine how the experience might be rendered tedious if not for [Robert] Israel's score. With funding from Turner Classic Movies (which aired the restored film in late April), the assignment called for roughly 4½ hours of musical accompaniment, with Israel drawing from nothing more than the brief prelude composer Arthur Honegger wrote for the film's original release. The rest of the score, like nearly three hours of the film itself, has been lost to the ages.

Building upon earlier compositions of his own to evoke the energy of Gance's work, Israel delivers far more than background music. His score begins with the bombastic energy of the opening train wreck, but mellows out as the film progresses. When Gance shifts gears to the mountains, the music helps smooth the transition, echoing each character's theme in a softer, more romantic context. It's important to remember that silent films were never silent. Without a score of this caliber, contemporary audiences would find it virtually impossible to appreciate Gance's achievement.
- Bruce Calvert, Nitrateville
Our first look at the disc reveals an excellent full-frame video transfer that has chiefly utilized a 35mm master positive of the common 12-reel version of the film, supplemented with a 35mm eight-reel print of the Russian release version, and two incomplete color-tinted 35mm nitrate prints of a longer French version of the film. Two short scenes are presented from a 9.5mm reduction print — the only known footage to survive of these scenes. Some sections of the source prints are marred with the expected amount of dust, speckling, emulsion scratches and processing artifacts. This edition, produced by Eric Lange, David Shepard and Jeffrey Masino, with support from Turner Classic Movies, represents the most-complete version of La roue to be seen since the 1920s.

Easily one of the three most-important DVD releases of 2008, we enthusiastically recommend this edition of La roue.
Video: La Roue is a full-frame presentation, and given the age and scope of the picture, the DVD producers have done a tremendous job resurrecting it. Notes that come with the booklet in this release detail how this version was cobbled together using a variety of sources, and though the print is not perfect, it's clear they went out of their way to use the best material for each scene. There is some noticeable wear and tear, usually seen as surface scratches and sometimes spots and burns in the film, but these problems are usually minimal and the image quality is always clear. Very rare scenes have tremendous damage, and even they are still perfectly watchable. Surprisingly, the picture never gets jumpy, and even splices are clean. Undoubtedly, the people involved gave their every attention to making this the best it could be.

The picture is black-and-white, but tinted with various changing colors, as well. It's only by some weird coincidence that all of my screengrabs are the standard gray.

Sound: One stereo sound mix is available, featuring the new score by Robert Israel. Israel uses a full orchestra, as well as the occasional integrated sound effect, and the audio is excellent, using the different speakers to give the work a large atmosphere. It's a good score, never overbearing even as it enhances the onscreen action.

New English title cards were produced for this edition, and they also include some effects, like the delayed appearance of a closing line of a sentence to add drama. There are also occasional passages that appear over the top of the scene like subtitles, and if written words appear as part of the props, such as a letter, there are smooth fades from the French text to English translations. All of the text is easy to read, staying on screen for the right amount of time to allow proper digestion.

Extras: Only a couple of extras here, this two-disc set is mostly movie. The one that surprised me the most was "Autour De La Roue," a period behind-the-scenes documentary that collects over eight-minutes of on-set footage, put together like its own silent movie with explanatory title cards. It's rather fascinating to see a 1920s movie production at work, including shooting on location and with the big trains.

The original press book is also presented as a video feature, with the pages automatically turning after a couple of seconds. The text is in French and given without translation.

Inside the DVD case, which has a hinged tray to accommodate both discs, is a sixteen-page booklet with an essay on the history of the film by William M. Drew and notes from composer Robert Israel.
- Jamie S. Rich, DVD Talk
About Abel Gance
IMDb Wiki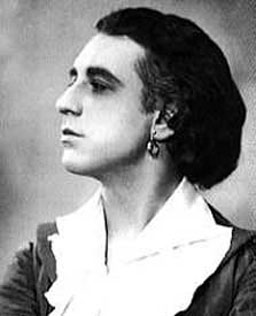 Abel Gance was a giant of cinema art, a genius whose artistic courage and humanist vision created masterpieces that inspired many other directors, from his silent film contemporaries in the 1920s to the French Nouvelle Vague of the 1950s and 1960s. The failure of much of the critical establishment in the 20th century to fully recognize or appreciate Gance's artistry, a tragic oversight which succeeding generations will surely rectify, was perhaps the inevitable consequence of the director's prescient conception of his medium. Constantly experimenting with new techniques to express his view of life on screen, Gance expanded the possibilities of film as an art beyond any of his contemporaries. Yet, while devising dazzling technical innovations to achieve what he called "the music of light," he never lost sight of humanity, inspiring his players to give intense and vital performances in narratives whose sweep embraced both epic grandeur and lyric tenderness. Gance's vision was at once romantic and realistic, larger than life in its heroic and mystical dimensions, yet sensitive to historical documentation and location shooting, incorporating the details of actuality. His much-misunderstood conception of the heroic, a direct challenge to skeptics and naysayers, paid tribute to the aspirations of the human spirit for transcendence. For Gance, the hero was not a manifestation of elitism based on traditional views of group and caste, but rather an individual of tremendous creativity and insight whose tragedy resulted both from the fierce opposition of an entrenched establishment and the reality of his own human limitations. Invariably a man of the people voicing the need for radical change, the Gance protagonist was ultimately isolated from mass society because of his failure to adapt to its fundamental conservatism which is in constant tension with its simultaneous yearning for revolutionary transformation. Expressing these conflicts in his work, Abel Gance created films that are unique and timeless in their dynamic portrayal of the triumphs and dilemmas of humanity in its search for the ideal.
Abel Gance is universally recognized as one of the greatest directors in history. Often compared with Erich von Stroheim for his talent, extravagence, imagination and ego, his experiments in camera movement, editing, and cinematography exceeded anything being done by his contemporaries and redefined the parameters of film discourse. But he often provoked animosity promoting his own genius and aggravated producers by running over budget on ever-expanding projects. Finally, like von Stroheim, the advent of sound prevented Gance from realizing his ambitions.

La Roue's (1922) story concerns a railroad engineer named Sisif (combining Sisyphus, Oedipus and Lear), the incestuous passion he shared with his son for his adopted daughter, and his desperate attempts to repress that passion. Like Gance's previous work, La Roue was unabashedly melodramatic and pompous, the title referring to train wheels, the wheel of fortune and a Victor Hugo quote which preceded the story. But the level of technical daring was so breathtaking that Jean Epstein called La Roue "the formidable cinematic monument in whose shadow all French cinematic art lives and believes." Gance spent six months on the script and an entire year shooting on location. Then came tragedy: Gance's wife died of tuberculosis the day he finished shooting. He mourned in the US where he met D.W. Griffith at the New York premiere ofJ'accuse!. Griffith was so impressed he invited Gance to his studio. As a result of this encounter, Gance spent an additional year reediting La Roue. Filled with contradictions, it also contains sensational climaxes and truly lyrical moments. Among the innovations: rhetorical figuring; dramatic lighting effects; sophisticated editing used for inserts, flashbacks, and parallel action; and dazzling rhythmic montage so extraordinary that when Russian directors Eisenstein and Pudovkin visited France they thanked Gance for having taught them editing.

For years Gance has been undervalued because he focused his attention on style rather than narrative, because of his predilection for melodramas, and because of the deplorable state of available prints. His work is often pretentious, lacks rigor and represents the antithesis of narrative modernity. But thanks in large part to Brownlow (along with Francis Coppola and others), Napoleon and Gance's reputation have been restored to their proper places in film history. Having taken film further technologically and esthetically than any of his contemporaries, Gance has finally been recognized as the major figure in French film of the 1920s.