Last week in San Francisco my fellow Golden State Warriors fans Jonathan Marlow (formerly of GreenCine) and Hannah Eaves (Link TV) were swapping top ten lists. When I came back I tapped Cindi for hers. So here you are with four lists (the first two can also be found on the SF360 site): Hannah Eaves
1. "Hotel Chevalier" 2. "No Country for Old Men" 3. Zellner Bros vs Duplass Bros Smackdown Program (at SXSW) 4. "You, the Living" 5. "Hannah Takes the Stairs" 6. "Radiant City" 7. "Persepolis" 8. "My Winnipeg" 9. "Manufactured Landscapes" 10. "Sicko"
Jonathan Marlow
The pesky criteria: Must've screened theatrically somewhere in the U.S. for the first time during 2007. This eliminates the honorable (and long overdue) resurrection of "Killer of Sheep" (Milestone deserves their own separate recognition for this significant achievement and the "I Am Cuba" set). Must be fiction, although some documentaries are clearly their own form of fiction. Documentaries deserve their own list, I wager. It also goes without saying that I would have to actually see the film, which rules out a few -- "There Will Be Blood" or "Youth Without Youth," for instance, might've made the list if I'd seen them. Then again, maybe they wouldn't.
Any list, of course, is a perennial victim of the list-maker's own peculiar tastes. I have no great fondness for coming-of-age stories or bio-pics, which strikes "The Assassination of Jesse James by the Coward Robert Ford" and "Control" (both otherwise largely exceptional movies, although the former could stand to be about 45 minutes shorter). Much as I liked nearly every aspect of "Juno" (the script and performances, primarily), it still feels a bit too lightweight for the list. If I'd limited it to "films made in North America," it'd certainly appear.
With these caveats and without further delay, a list (which breaks its primary rule with the first and second slots):
1. "You, the Living" Swedish filmmaker Roy Andersson's long-awaited follow-up to "Songs from the Second Floor." The fact that "Du levande" still lacks a U.S. distributor is merely another indication of the pathetic state of film distribution these days.
2. "4 Months, 3 Weeks and 2 Days" The latest highlight from Romania is an abortion drama in the shape of a suspense film from first-time director Cristian Mungiu. On paper, it shouldn't work. On the screen, it's nearly two hours of satisfactory dread.
3. "No Country for Old Men" Everyone says it's the best movie from the brothers Coen in years. I won't disagree with them (and I'd encourage those same folks to see their Cannes-commissioned "World Cinema" short from "Chacun son cinema," a "companion piece" of a sort). Let's hope that John Hillcoat does right by "The Road."
4. "Brand Upon the Brain!" With its road-show live performances, arguably the "movie event" of the year. Arguably the only "movie event" this year, though. Nonetheless, a delirious fantasy of familial discontent.
5. "Silent Light" For the opening and closing sequences alone it would definitely appear somewhere among these ten. For everything that comes between those two moments, it falls in the middle of the list.
6. "Syndromes and a Century" Of the several admirable New Crowned Hope films, this one appeared on my list of 20 features lacking distribution last year. "Sang sattawat," essentially two-films-in-one, finally made its way to a few theatres in 2007 and deserves mentioning again here. Best short film of 2008? Weerasethakul's "The Anthem."
7. "Zodiac" A mature work of remarkable restraint from a director not generally known for such qualities. The title would have you believe that it dwells on the identity of the killer but, much more interestingly, the film finds its narrative center in the finer details of obsession.
8. "Exiled" For anyone thinking that they don't make Hong Kong movies like they used to, Fong juk proves that certain directors -- Johnny To, in particular -- still have what it takes to rivet an audience. Of course, there are also missteps like "Triangle"...
9. "Atonement" I suspect that the magnificent moments of this story originate in the book which, admittedly, I have not read. In other words, I fear that I'm reacting more to the structure of the novel and less to the accomplishments of the film. Even still, it earns a place here. To see where these same themes can go dreadfully wrong, observe Silk (also with Ms. Knightley).
10. "Private Fears in Public Places" Ayckbourn and Resnais, together again! I have a weakness for both and, while this isn't my favourite of their collaborations, it is still pretty damn charming in almost every way.
There you have it. How about fifteen more from the documentary side of the aisle?
1. "My Winnipeg" 2. "Forever" 3. "Radiant City" 4. "King Corn" 5. "Frank & Cindy" 6. "Manufactured Landscapes" 7. "Helvetica" 8. "Joy Division" 9. "The King of Kong" 10. "Maurice Pialat: Love Exists" 11. "About a Son" 12. "Protagonist" 13. "My Enemy's Enemy" 14. "In the Shadow of the Moon" 15. "Encounters at the End of the World"
(and, since I've already praised it in the past, an honorable mention for "Darkon" -- it received a well-deserved theatrical release earlier this year -- while a few others, such as "Into Great Silence" and "Black Sun," would otherwise hit this list if I hadn't seen them the previous year...)
Cindi (Cindi informed me that her list is not yet finished, so I've unpublished it until further notice)
Kevin (Like Cindi's list, my list includes anything newly released or unreleased that I saw for the first time in '07)
I was juggling several criteria trying to compare dozens of films with each other, before I settled upon a very simple rule of thumb: which ten films did I most wish I had made myself?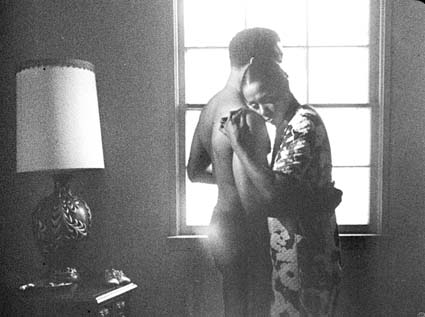 1. "Killer of Sheep" - who cares about whether it's really eligible - this is one of my all time favorite films. 2. "Four Months, Three Weeks and Two Days" 3. "There Will Be Blood" 4. "Profit Motive and the Whispering Wind" 5. "Colossal Youth" 6. "Eat, For This Is My Body" 7. "Quiet City" 8. "Ratatouille" 9. "Knocked Up" (I offer this rather sheepishly, as there were some more sensitive and even films about sexual relationships, especially two by women - "The Last Mistress" and "Lady Chatterley" - but I would give a lot to make people laugh like this film did. 10. a three-way tie between "Flight of the Red Balloon," "Still Life" and "Useless"