screened Saturday September 15 2007 at the IFC Center, New York IMDb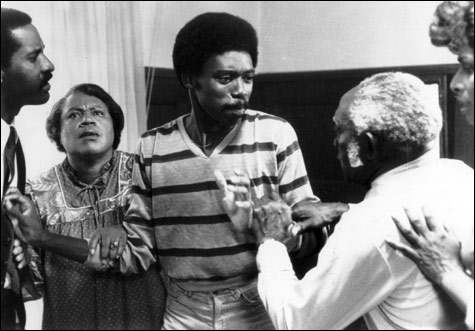 From my friend Will: "I saw My Brother's Wedding on Friday at IFC and Charles Burnett was there to introduce it. What an incredibly humble, funny, gentle, smart guy. The movie was interesting and funny, though (and he mentioned this in his comments) the use of nonprofessional actors was not as seamless as in Killer of Sheep... he basically said that it takes a lot of time to work with them, since they don't bring their own plan to the table, like professional actors. There was this weird artificial feeling, like people were reading their lines, that was a little distracting, even if it was there on purpose."
My reply "Funny, Cindi and I saw My Brother's Wedding last Saturday and we had a nice chat with Charles Burnett afterwards. At this point I have no reservations with calling Killer of Sheep my favorite American film of all time, so it was a real privilege and honor to meet him, and you're right, he is such a soft-spoken and thoughtful man. In my interactions in the filmmaking community I've been inclined to believe that such gentle personalities can't make it in such an aggressive, competitive environment, so his success (artistic at least) is really a cause for celebration and source of inspiration. He and his editor were talking about their new film which was shot in Africa (Namibia I think is the title) and is just now making the festival rounds.
Regarding the acting, I'm inclined to deem it a product of the limited resources he had, not just in terms of the non-actors he had to work with but also limited time. He shot Killer of Sheep over a year's worth of weekends so he probably had a more relaxed pace with which to rehearse and get satisfactory takes. From what it sounds like, he was under pressure to get the film done within a deadline set by his German financiers, which eventually led to a 120 minute rough cut that became the final version for its short-lived inital release. Only through the recent funding of Milestone was he finally able to edit the film down from an HD master transfer of the original rough cut. (I wonder if he would have liked to have reclaimed some of the negative footage that didn't make the rough cut).
But back to the acting - if one wants to describe it favorably, one could say there's an almost cubist quality to the performances, like these figures seem to stand a little bit in contradistinction from their environs and the forced manner in which they enunciate their lines serves to underscore their innate qualities as individuals. You get this kind of affectation in filmmakers like Bresson and Straub/Huillet (not sure if Burnett studied them in film school). There was some of this affect to the performances in Killer of Sheep as well, though perhaps it was less conspicuous because Killer of Sheep is unusual in so many other respects that the acting just seems like one of several stylistic iconoclasms. It's apparent to me that with My Brother's Wedding he's starting to inch towards a more conventional/commercial-friendly film language, a trend which becomes more obvious when you see his later films. In this light, Killer of Sheep really stands out as an unfiltered work of genius."
yes (#6 for 1983 between Trading Places and A Nos Amours)