screened Friday March 23 2007 on Second Sight DVD (loaned by Antonius Block) in New York, NY TSPDT rank #507 IMDb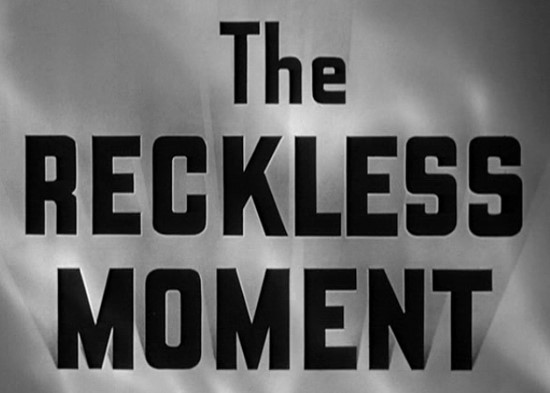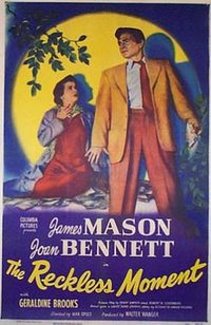 This 1949 melodrama from Max Ophuls's postwar Hollywood period is usually overlooked in favor of the masterpieces he would realize upon returning to Europe (Lola Montes, The Earrings of Madame de . . . ). But it's one of the director's most perverse stories of doomed love, with Joan Bennett as a bored middle-class housewife whose daughter accidentally kills her sleazy suitor, and James Mason as an engagingly exotic Irishman who attempts to blackmail the mother. Naturally, they feel a certain attraction. Ophuls spins a network of fine irony out of the lurid material; Bennett is surprisingly effective as a typical Ophuls heroine, discovering a long-suppressed streak of masochism.
- Dave Kehr, Chicago Reader
I've been feeling rather Lucia Harper-ish lately as I've been juggling multiple projects along with moving to a new apartment and settling into a new job. I will offer my own reflections on this masterful film later. For now I'd like to present various excerpts from illuminating resources I've found online, sequenced in such a way that I feel it reflects a coherent argument of its own for what is special about this film:
First, to give some sense of how far this film has come in the critical consensus:
With Joan Bennett playing the lady in this Walter Wanger film, the nuisance of the dilemma is eminently disclosed. Miss Bennett prettily chews pencils, trying to find a way to cut the household bills, and innocently takes a few baubles to a loan office in hopes of getting a loan... Although it is rather well staged, with credible location settings in Balboa and Los Angeles, it is a feeble and listless drama with a shamelessly callous attitude. The heroine gets away with folly, but we don't think this picture will.
- from the first-run release review in the New York Times by Bosley Crowther.
Reviews of the Second Sight DVD are generally positive. As always, DVD Beaver runs a thorough spec breakdown. Todd Haynes, who considers The Reckless Moment one of his ten favorite films of all time, gives a wonderful 22 minute introduction of the film, titled "Maternal Overdrive," a term he uses to describe the state of the protagonist, Lucia Harper.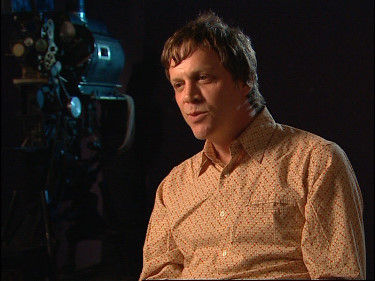 Though most viewers may find it to be a touch academic, I thought the feature-length commentary track by Lutz Bacher, author of Max Ophuls in the Hollywood Studios was a fascinating behind-the-scenes account of how the particulars of the production - namely the tensions between Columbia Pictures, producer Walter Wanger, Ophuls and the cast and crew - resulted in the finished product. All the more fascinating given that this was a pseudo-independent production with an iconoclastic European director at the end of his rope with the Hollywood system.
According to the DVD Times review of the Second Sight DVD, James Mason penned the following about Ophuls:
A shot that does not call for tracks Is agony for poor old Max, Who, separated from his dolly, Is wrapped in deepest melancholy. Once, when they took away his crane, I thought he'd never smile again.
[googlevideo]-8349638851558631086&hl[/googlevideo]
Ophuls's long tracks and long takes emphasize things that seem neither ephemeral nor trivial, but are imponderable and cannot be "dealt with": emotions, desires, anxieties, self-awareness, identity.
- from Tag Gallagher's essay, "Max Ophuls: A New Art - But Who Cares?"
I knew that James Harvey had written extensively on The Reckless Moment in his book Movie Love in the Fifties. Though I don't have a copy of it at hand, I happily found a choice excerpt from this review of the book by William D. Routt for Senses of Cinema:
Over the course of his movie Ophuls shows Lucia (Joan Bennett) going through, in and out of, a variety of public settings – a hotel lobby, a bank, a pawnshop, a post office, a cocktail lounge, and so on. He omits establishing shots, so that we enter these places with her. And she is accompanied, for the most part, by ambient sounds alone (there is hardly any musical underscoring in this film, even at the big moments), often intricately layered, with traffic and bustle and snatches of overheard conversation. But he's never more intent on her than in those moments when she's moving around her house, especially those times when she is between rooms and encounters: on the stairs, in the hall, on the way to the door, walking and thinking, then setting her face for the next question, the next lie, the next intrusion on her thoughts – on the stairway landing calling up to quiet the children, then lighting a cigarette, gathering herself together over it, while a distant banjo (David in his room) thrums tunelessly in the distance. It's extraordinary how absorbing these moments (there are a great many of them throughout) always are – when "nothing happens" except Lucia's walking and thinking and pausing. The intensity of her concentration, along with her isolation on the screen, draws you in irresistibly (p. 236).
(you'll have to up the volume to hear the banjo at the end of this clip that Harvey mentions)
[googlevideo]6662904923610990922&hl[/googlevideo]
Here's a different take on this constant busyness:
Sit-coms and comic strips love the American family because something big always seems to be happening but everything is back to normal by the end of the episode. The Reckless Moment repositions that once-a-day cycle from the mother's point of view: the family member's job is to present every passing fancy as an emergency to the mother, but the mother's job is to maintain stability at any cost. Where Douglas Sirk's domestic tragedies emphasize suffocation (the enveloping family keeps you warm at the cost of snuffing out flames), Ophuls pecks to death.

The eventual effect of this affection-hungry din is to level all stimuli out. Thus Ophuls's thoroughgoing use of a narrative technique I've never seen used anywhere else in film, fiction, or theater: the deliberate tossing away of obvious opportunities for suspense and emotional climaxes. Drama is replaced by fretfulness:

The mother takes a motorboat on a dangerous mission. After she's safely home, we're told at some length that the boat has mechanical problems and that she could have been stranded. Why are we told afterwards? Is it important? Probably not, but it nestles in with the other nagging pointless worries
A romantic stranger signals his affection by smuggling a gift into the mother's shopping bag; she finds it and assumes the shopkeeper made a mistake and that she'll have to return it later. She doesn't. Has she forgotten? Has understanding dawned offscreen? What will happen the next time her child asks about it? We never find out, because more recent (and therefore more urgent) crises intervene.
A small town, full of gossips in that Hollywood small town way, sees her gallivanting around all day with the romantic stranger. Does that put her marriage in danger? Who knows? We're on edge, but the only on-screen event that might have been provoked by gossip is her father-in-law's distractingly and uselessly tardy offer of emotional support.

And so on, until it's completely understandable that someone who needs $5000 overnight would start trying to figure out how to trim the electric bill, and that someone might panic as much over the distinction between "getting" a loan and "making" a loan as about murder, blackmail, and truly doomed love.
Kevin John offers his own thoughts on the character motivation behind Lucia's perpetual state of preoccupation as a state of both resistance and complicity to the matriarchal role she upholds:
I find that Lucia's trips to Los Angeles offer a series of delays as a structure of desire. For if the family has become a prison for Lucia, then these trips get her out of the house. Thus what the delays are stalling is the inevitable reinsertion back into the home. That the reinsertion will be inevitable is apparent from the very beginning of the film.

Over an image of Lucia driving across a bridge, a male narrator, whose voice belongs to no character in the film and who never returns, intones: "The Harper family lived in a charming community called Balboa about 50 miles from Los Angeles. Early one morning, Mrs. Harper took her car and drove to Los Angeles and...." At this point, David, who is fishing below, "completes" the narration by calling out to Lucia: "Mother, mother, where are you going?" This device not only suggests an eerie, unseen ideological presence, but David takes it up, cementing the notion of family as oppressive. Since the mere fact of a drive is noteworthy (even illicit, given the stunned, halted cadence of the narration) for Lucia, the synergy between the narrator and David functions as an attempt to reproduce the existing relations of production — i.e. Lucia must ultimately remain in the home.
As in his passage above, James Harvey does a great job explaining Lucia's state of mind in terms of gesture and staging:
He stops her in the doorway, taking her by the arm. They are both moving like sleepwalkers now.

"I'll get help", she protests, "you're bleeding." But he holds on to her in the doorway, her back against the outside wall, her face turned toward the house and the call to the police – she doesn't move.

Then he turns to go back to the body – he has to get rid of it, he says – and she pulls him back by the lapel of his coat and puts her hand inside it again.

He presses his hand on hers over the wound. This choreography of clutchings and pullings and turnings-away is very powerful. It's not only the first time that Lucia touches Donnelly, it's the first time she's touched anyone in the movie – except the corpse at the beginning.

They lean against the wall and he holds her hand to his chest. And as he talks – about his misspent life, his regrets, his feelings for her – she begins to sag beside him, her head hanging, in shame and sorrow, sinking lower and lower as he goes on.

It's not love they've achieved (there was never much hope or question of that) but complicity. And the unresisting way Lucia now accepts their intimacy – like the direct way she put her hand on his wound – reminds you of what's appealing about her in spite of everything, as well as what's sort of awesome: her matter-of-factness in the face of enormity. But she is also someone who lives more than half-averted from her deepest, strongest feelings: just as she is so poignantly now with him, outside the doorway – both holding on and turning away at once.
(Harvey pp 240–241)
Aside from the IMDb, extensive production details are available on a site named Cinematography of the Holocaust (!)
Other notable reviews online:
More to come...